Commercial Roofing Installations
Commercial roofing installation and repair projects make up the majority of our workload. We know how much time and money you've invested into your company. You don't want to turn to just any roofer, but one with the qualifications, safety procedures, and equipment you can trust to get the job done right the first time. To protect your investment, we bring over 300 manned years of roofing experience to your commercial roofing project.
SBS torch-on membrane is our primary commercial roofing material, but we also provide service to roofs, including, but not limited to:
Metal Roofing

Standing Seam

Snap-Loc

Flexible membrane EPDM

TPO

Tar & Gravel
We also do roofing work for industrial projects and institutions like factories (fruit, manufacturing plant, or brewery), hospitals, and schools.
Commercial Flat Roofing Installation and Repairs
Flat roofs are ideal for large commercial buildings. Some flat roof brands we use include IKO and Soprema. IKO manufactures a full line of asphalt applied membrane roofing systems. These weather-durable heat welded membranes are reflective, fire rated to handle extreme temperatures and mitigate fire.
While flat roofs offer many advantages over a sloped surface, over time, they are not immune to water penetration issues. Commercial flat roofs can require repairs because of reasons such as extreme weather conditions and disasters, snow removal damage and punctures from other rooftop equipment installations. If you need commercial flat roof repairs, we can provide a full inspection by our knowledgeable tradesman, and recognize potential issues before they become a problem. If you need to install a new roof, we can complete the installation in a few days, to limit the inconvenience of construction.
Residential Flat Roofing Installation and Repairs
Before replacing your roof, we will visit your home to conduct a roof assessment so you have an accurate quote. We only hire qualified, insured roofers to ensure a professional job, and focus on completing the new roof installation or repairs as soon as possible. After the installation is complete, we thoroughly clean up all construction material and debris. Residential flat roofs are a cost-effective option that perform and protect very well. Hiring our experienced professional team ensures the proper materials are used, and installation is done correctly. Homeowners can then count on years of reliable performance when selecting a flat roof option. A flat roof is an aesthetic usable space, and new home designs implement rooftop gardens and private sitting areas into their plans – a perfect way to enjoy nature, in safety.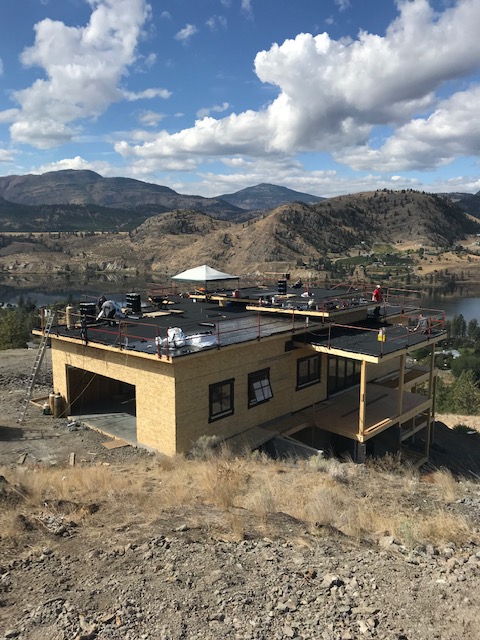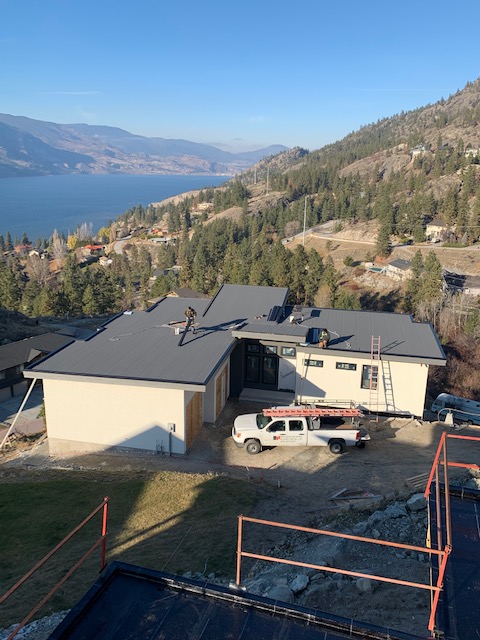 Fully Licensed & Bonded
Our commitment to safety and customer satisfaction is our number one priority. We provide professionally trained roofers for each job. Nielsen Roofing & Sheet Metal Ltd. is fully licensed and bonded to work in all our Okanagan Valley communities, including Penticton, Osoyoos and Kelowna.
Free Estimates
Prior to drafting a contract, we provide free estimates. Several options and the cost of various roofing products and services are provided, including samples. You can trust us to recommend the best roofing option for your project.